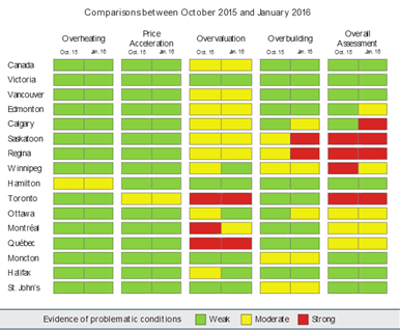 To sum up what we can expect in Guelph over the next 3-6 months:  An aggressive Seller's market fuelled by lack of supply and plenty of demand.
Read on for indicators, insights, and market data. Want to discuss the possible impact this information could have on you and yours? Mike and I would love to hear from you so please don't be shy to reach out and ask questions.
CONTENT INDEX
1.  International Review
2.  National Review
3.  Local Review
4.  Summary and Opportunities
1.  International Review:
Primarily positive outlooks for established economies around the globe with Canada expected to see modest growth of 1.7%. Primary risks to the Global economy? A sharper than expected slowdown of China's growth alongside political tensions/conflicts and the risk of escalation. More info here: World Economic Outlook
2.  National Review:
We have seen an increased risk of Overvaluing and Overbuilding of housing in some of the major city centers. Page 6 of the CMHC Housing Market Assessment has a great graph.
Download the report here: Housing Market Assessment
This graph is like a blue print for opportunity – the overvaluation of real estate that we are seeing in Toronto and surrounding GTA cities is due to a lack of supply and an increase in demand. Lack of supply coupled with growing demand = price increases. It doesn't get any simpler than that.
When we narrow our view to Guelph, you will find the very same story here. I would suggest that condo towers (as is the same with Toronto, Kitchener, and Waterloo) are at risk of being overbuilt regardless of the fact that lack of supply is an issue.
3.  Local Review: 
If you had not already seen this bit of good news – here you go:) Once again, Guelph is in the headlines: Best City To Find A Job
For those of you actively participating in the local Guelph real estate market, you are likely already painfully aware of the lack of supply of housing. Lack of supply was the trend for 2015 and continues to be story for the first quarter of 2016. There will be no change in this status for the foreseeable future. What does this mean for you?
If you are Selling   Your home should sell, sell fast, and sell well. Can you mess up selling in this market? Absolutely. In such a fast paced market, being For Sale for more than a week can make you "yesterday's news" and the home that no one else wants. If you want to maximize the sale price, then you will need the right price, the right polish, the right strategy, and all the exposure you can muster to legitimate, qualified Buyers – this is a formula that Mike and I know and know well.  Check us out on Facebook or Twitter.
If you are buying  It's all about being organized, educated, and informed. There are a lot of moving pieces so preparation and strategy are key to securing a home in this fast paced market.
To review the complete numbers for Guelph's last quarter, or previous quarters, go here:  TrilliumWest Market Data
4.  Summary and Opportunities
In-Fill Development   All infills are unique. They take out-of-the-box thinking. I love these projects and have the energy and experience to make them happen. Wondering if you have an infill opportunity on your hands? Let's chat. Please keep in mind, sometimes the best way to create an infill is to re-zone the property. Curious? Call us.
Downsizing   There is no surprise here – downsizing continues to be the number one way to take advantage of the strong Seller's market. Selling your larger home with its higher utility bills, more maintenance, and higher property taxes, and purchasing a maintenance free, smaller, home/condo = massive savings on multiple levels including taking full advantage of the spread between your sale and purchase price.
Rental Property   Yes, there are still plenty of opportunities here and no, I am not referring to purchasing at 3-5% returns on investment. There are entire rental markets being ignored and under serviced as the majority of investors and Realtors focus on student rental prospects. Want to invest in Guelph's historically low vacancy rate? Let's talk.  We have some great ideas and opportunities to consider that are beautifully outside-of-the-box.
Renovations   With the seriously aggressive Seller's market we are experiencing I feel there is huge merit in the idea that renovating your home so that it fits your needs may be the best bang for your buck. We have a team of amazing contractors who we have worked with personally and who would be happy to help you explore this option, in my opinion, better than anyone else. But don't take our word for it, let's meet, chat, and give you something to mediate on;)
Whatever 2016 finds you doing, I sincerely hope that our paths will cross and we have an opportunity to connect once again:)