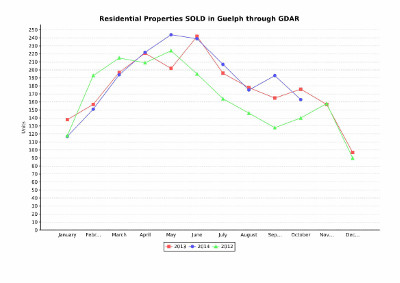 3rd Quarter CMHC Real Estate Review  with National and Ontario Outlook.
Good news! In my review of the previous quarter I had suggested that there could be some market concerns regarding a "flooding" of new multi-unit starts that could, with the help of other market factors, cause a real estate market pause or decline. What I found in the newest CMHC review was that many larger city centers are seeing a decrease in new multi-unit starts and that the province of Ontario is expected to be behind 2013's multi-unit starts in 2014 by 5%. I am not certain this number is large enough but I am encouraged to see that there is some restraint. Read on for more stats, data and projections. Not interested in all the dry data? Skip to the bottom for a summary and my opinions as to how this information could be of use to your benefit. 
General Economic Updates and Projections:
Economic Forecast = GDP growth over the next three years of 2.3%/2014, 2.5%/2015, and 2.3%/2016 due to U.S. economy growth. There is no change in this data v.s. previous quarter projections.
The unemployment rate is expected to decline modestly (7%/2014, 6.6% 2015, 6.2%/2016)
NEW projection – Hourly earnings are expected to be up by 2.3% in 2014 and 2.6% in 2015.
Mortgage rates are currently at 3-3.25% for 1 year and 5-5.5% for a 5 year closed with the expectation to rise a minimum of .20 percent in 2015 in the later months.
The updated national price increase of average MLS sale value is expected to be higher than the previous quarters projections – 5.8% in 2014 v.s.'s 3.5%. A 2.3% increase is approximately equal to an average price increase of $8,000 per house! Such an increase has an impact. Projected increases for 2015 = 1.4% (.2% less than projected in previous quarter) and 2016 = 1.6%(this is the first projection we have seen for 2016).
Resale homes are expected to hold up better versus new construction demand over the next few years.
Job growth in Ontario for 2015 is forecasted to outpace 2014 due to an increase in the strength of the U.S. economy.  Sectors to experience the most gains = information technology, machinery manufacturing, automotive, building material industries and those businesses who cater to U.S. markets.
Outlying cities of the GTA will benefit the most from rising home prices in the GTA. Demand in the GTA for less expensive multi-unit ownership and rental housing will grow. This remains consistent with previous quarterly projections.
2013 3rd 1/4 v.s. 2014 3rd 1/4
– Guelph is up 10.8% on employment growth over last years same quarter with unemployment down .9% over the same quarter last year.
–  Guelph MLS ave price is up 7.7% (Toronto's up 7.8%, Kitchener up 4.9%, Ontario up 6.1%, Canada up 5.4%)
– Guelph detached new home starts up 6.5% (Toronto's up 4.2%, Kitchener up 67.2%, Ontario up 9.4%, Canada up 2.6%)
–  Guelph new multi unit starts up 121.3% (Toronto down 19.6%, Kitchener up 109%, Ontario down 20.1%, Canada up 2.1%)
– Forecasts for Ontario's 1) mls sale price increase, 2)new detached starts, and 3)new multi starts, are all single digit increases or less for 2014 (the final quarter only), 2015 and 2016 with Guelph and Kitchener forecasted to outperform the provincial average by more than double in most projections.
Average MLS sale price for 2013 v.s. projected 2014, 2015 and 2016*:
Guelph  2013 – 343,564  2014 – $358,000  2015 – $370,000 2016 – $375,000
K/W/Camb  2013 – $324,604 2014 – $337,000  2015 – $347,000 2016 – $354,000
Toronto   2013 – $524,089 2014 – $558,000  2015 – $570,000 2016 – $580,000
all three city center 2014 projections have decreased from the previous 1/4 projections by aprox. $10,000. This shows less than expected growth in resale prices which, in my opinion, is good news for Buyers and Sellers and would hint at a reasonable and sustainable resale market.
SUMMARY of Information: In general the data is positive and confirms we have a healthy real estate market which we can expect to maintain. Caution is always practical but so long as our American neighbors continue to experience a rebounding economy we can expect to continue positive economic outlooks here in Ontario.
Top Opportunities in the current market:
1) Residential investment property. With vacancy rates projected to remain low and affordability of homeownership to remain high, this is a safe time to enter the rental investment market. The margins for profit are not as high but there is safety in the current stable market conditions.
2) Development of infill lots within city boundary. This is a slightly more complex scenario than purchasing residential rental property. Basic required criteria: Own or purchase a large lot (with or without a home on it) which has the potential of being sub-divided into two or more smaller lots or re-developed as semi-detached dwellings. Want to learn more? Call us and we would be happy to discuss.
3)Bungalow and introductory home market ($250,000- $350,000 price range) demand remains to be the most aggressive with seasonal fall market slowing. If you are considering a downsize to a multi-unit building then the current market (including the next 6 months) is simply the best you will find to make such a move. If you currently own a bungalow or home priced between $250,000 and $350,000, the early spring market (February/March) will most likely prove to be the ideal time to sell for top dollar.
Rental Market data:
Guelph is expected to maintain a vacancy rate of near 2% (1.9-2.1) over the next three years
Kitchener is expected to maintain a vacancy rate of 2.9-3.2% over the next three years.
Toronto is expected to maintain a vacancy rate of 1.6-1.9% over the next three years.
Canada is expected to maintain a vacancy rate of 2.6-2.7% over the next three years.
Rental markets remain to be tight in the GTA and, in my opinion, continue to be one of the best vehicles for personal wealth building available to everyone. I feel that the student rental market is likely to contract over the next couple of years but inevitably will balance out over the long haul. Are you, or someone you know, interested in learning more about the local investor markets? If so, lets get together to discuss.
Thank you for reading! As always, Mike and I would love to hear from you so please call or write anytime:) Your thoughts, feedback and questions are most welcome!
*this does not include Private sales, private sale companies such as property guys, etc. as they chose not to contribute to market data in an attempt to avoid liability via responsible recording.