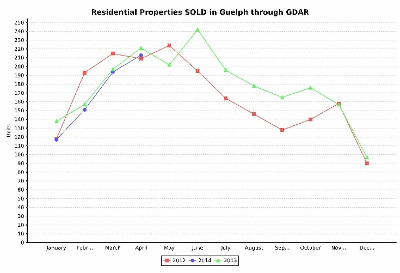 2014 First Quarter Real Estate Market Review 
For those of you who have been searching for a home you will know that the market has been very solid Sellers market.
Contributing factors to the Sellers market;
1)     Classic low spring market supply with high spring market demand.
2)     The residue effects of one of the hardest winters we have had in 20 years.
3)     Another year where new housing starts (new residences being built) are lower than the amount of new households (people moving to Guelph) being added to our community.
General Forecast for the local economy = positive. Why? Diversified industry and commerce, time tested local employers, and a steady influx of new households.
A Sellers market is an ideal environment for those who are downsizing, as they will realize maximum sale value and thus be in a stronger position for making a purchase in a lower price bracket. If you are thinking of downsizingor upsizing please call to discus the pros and con's and today's best practices to accomplish either.
Rental/Income Property Market Summary
The rental market continues to keep a tight vacancy rate with an average of less than 2% – the provincial average is 2.5%,
The CMHC report suggests that the rental market is not growing. I am not certain this data is accurate? 1) There are a lot of un-registered apartments in the city and 2) I do not think they took into consideration the mass amount of student housing that is coming on board over the next couple of years, which will be putting pressure on the student rental vacancy in the short term which may in turn generate new sales of tired, un-registered student rentals to be converted to single family homes or those older student rentals may become family and professional rentals.
More people left rental housing that entered it in 2013 – this is due to new affordable condo developments and steady immigration. This did not increase the vacancy rate due to the fact there are more new households being added to the community than are leaving.
The already low vacancy rates in 2013 are forecast to decrease further in 2014.
Guelph Rental  property licencing program
The proposed Rental property licencing program that started developing late last year will be coming to a head shortly. City staff has advised that a licencing program would not be the most effective way of managing the problems that many residents have in high rental areas. instead they recommended emphases on enforcement of bylaws already in place.
On Monday, May 26 at 7 p.m., City Council will decide whether to refer the following report back to staff as incomplete. Anyone wishing to address Council regarding the matter must register by 9 a.m. on Friday, May 23. Written comments are also welcome at the email or mailing address below.
City Clerk, City of Guelph       519-837-5603  TTY 519-826-9771   clerks@guelph.ca       1 Carden Street Guelph, ON N1H 3A1
If you are considering purchasing an income property the average local net return appears to be near 5% or less. The trick/challenge/goal is to find one with a net return of 8% or more. If you have an income property and are considering selling now may be the perfect time. Please call if you have any questions about the income property market.